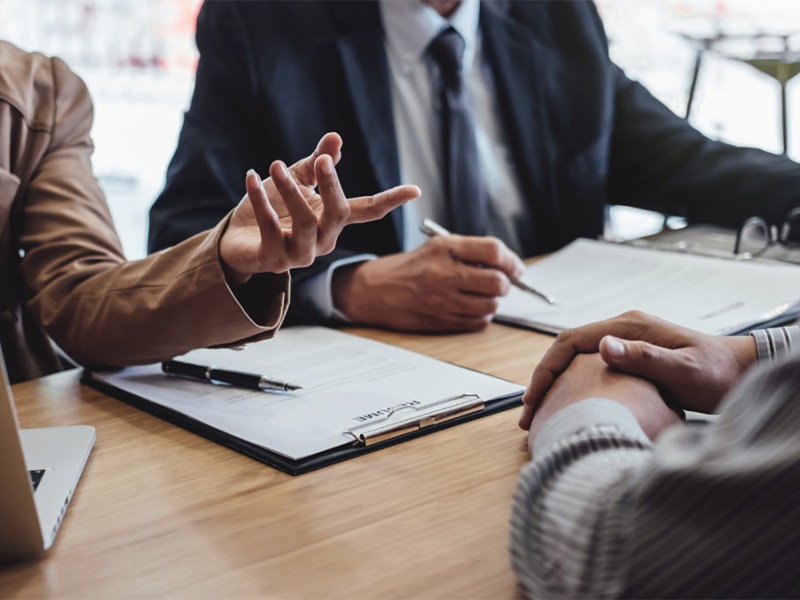 How to Pass the CIA Exam
Taking the CIA exam is no small task. As an ambitious professional embarking on this journey, you must prepare yourself for what lies ahead. If you know others who have taken the CIA exam, they may be able to offer advice on what to expect and steps you can take to prepare yourself. But we'd like to help too!
With decades of experience in helping others prepare for and pass the CIA exam, we've learned a few tried and true techniques that we'd like to pass along to you as well, as you create your strategy for tackling this feat.
Consistent Regular Review and Practice
There's no sugar-coating it: exam that you're admirably about to undertake is a difficult one. It has been designed and constructed to challenge you. With this in mind, you need to be very knowledgeable of the topics, and be able to talk about them with some level of confidence. A single word in the question or the answer makes a big difference!

We recommend studying the content deeply, focusing especially on areas that are tested at the proficiency level and giving more attention to areas that you feel less confident about.
Schedule Your Study Sessions
Life gets busy – we're with you! With everything you have on the go, it's a good idea to set aside time to study for the CIA exam. Creating a study schedule will help keep you on track and ensure that you have plenty of time to review the content for the exam multiple times before you take the CIA exam.
Your strategy and study schedule can be somewhat flexible and can even be revised and shifted over time. But having a strategy and revising it is better than attempting the exam with no plan at all.
Shorten Your Study Sessions
Trying to absorb too much information at once can lead to actually forgetting crucial concepts and facts. Don't plan to study for prolonged periods of time. Schedule short, efficient study sessions that will allow you to dig into topics but won't overload your brain. 2 or 3-hour sessions are not as productive as 2 or 3 shorter sessions with longer breaks between them.

We recommend short study sessions with no more than 1 hour per session and a target average of 20 hours per week.

The best information retention happens when we allow our brains time to rest and recharge. It's good to increase study time as you draw nearer to exam time, but don't put too much pressure on yourself.
Celebrate Your Accomplishments, Big and Small!
Remember that studying for the CIA exam is difficult work, and you deserve to reward yourself for your accomplishments – big and small!
When you finish a portion of your study plan, hit a small or big milestone, or pass the exam, reward yourself – be it a special dinner out, a fun movie night, or something else you enjoy!
It's important to find a balance between study prep and rest. It will help keep you motivated, and in the rest periods, you can reflect on your study strategy and if you'd like to change it at all to increase productivity, allow for more time to recharge and retain information, or pivot your approach in another way.
Practice Makes Perfect
The more familiar you are with the exam content, the more confident you will feel going into the exam which may, in turn, increase your likelihood of passing.
Answer practice questions often – and don't skip any topics, even if you find them easy. You don't want to be surprised on exam day! While practicing often is advisable, do not reattempt the same questions on consecutive days.
Allow a cool-off period of 7-10 days between attempts, focusing on questions you answered incorrectly in prior attempts.
Learn From Your Mistakes
We all make mistakes – we're all
human, after all! But it's important to look at your mistakes as opportunities to learn and grow. While its important to read all answer explanations to all questions even when answered correctly, its extremely important to focus on explanations of questions you answered incorrectly. Take the time to understand why you got a question wrong. It will help you understand the concept and question better in the future.
This approach will keep you from getting discouraged and will help to keep you motived in your ultimate goal of passing the CIA exam.
Don't Memorize the Questions
Exam questions are not identical to practice questions, so don't spend time trying to memorize each question.
It's more important that you focus on the lesson and knowledge that you are being tested on, rather than the specific question. One technique we recommend for retaining information without memorizing is to explain to yourself, before attempting the question, why each of the incorrect answers is incorrect, and why the correct answer is correct.
Broaden Your Scope
All topics are important on the CIA exam, so do not ignore some topics and double down on others. Some topics and concepts may be more difficult to understand or absorb than others, but that just means that you should plan to spend a little more time on those specific topics.
Remember, too, that there are different versions of the exam. So while one of your friends, family members, or colleagues may have taken the exam and not had many questions on a specific topic, it's possible that their version was structured that way. But the version you receive will likely be different.
Whether you study a certain topic or not, it will be on the exam, and you will be evaluated on your comprehension of it.
Take Advantage of a Mock Exam
A mock exam can help you in many ways. It can help you become more comfortable with taking the exam and can help you identify any opportunities for improvement in the knowledge you've absorbed. We recommend simulating the exam environment: use a laptop or desktop to do the mock exam, switch off your phone, close the door, and tell your family or roommates not to disturb you during your mock exam.
You can even use the mock exam we offer here at PRC to help you!
Aim for a score of 90% or higher. While undisclosed, we estimate that the passing score of the exam is anywhere between 67%-72% depending on exam version difficulty. The mock questions may be familiar to you, unlike the real exam questions, so you should aim for a score that's higher than the real exam's passing score.
Hone Essential Exam Taking Skills
While focusing on the exam content is crucial, there are other exam taking skills that are important to work on as you prepare for the CIA exam. One of those most critical is time management. You're only provided with a certain amount of time to take the exam, so you must pace yourself and ensure that you're giving yourself time to answer all of the exam questions.
You can do this while taking the mock exam and while answering practice questions! Monitor your average time per question, and set a time limit for finishing a session.
Use PRC's Expert Exam Taking Technique
Our expert instructors and staff have developed an exam taking technique that's been tried and held true, helping many ambitious professionals pass the CIA exam. And we'll reveal it to you here:
• Go through the questions, answering only short questions and/or questions that you are familiar with. Do not attempt to answer long questions and/or questions pertaining to topics you are not as familiar with or do not like. This step should give you more time on the more difficult questions in addition to building your confidence.
• Take a second pass attempting to answer medium length and/or medium difficulty questions.
• Repeat the process until you have completed the entire exam session. • When you have exhausted all the questions you are able to answer and there are still unanswered questions, attempt to guess the answers.
• Be sure to choose only the appropriate checkbox. Budget your time and use PRC's Exam Answering Technique (in the points above) to maximize your chances of passing.
• Read the answer choices carefully.
• If you do not know the correct answer, select the best possible choice.
• Double check that you have answered all questions before submitting your exam.
• Make sure to read and sign the nondisclosure agreement.
• Maintain your positive attitude before and during the exam; do not panic if you encounter difficulties while studying or while doing the exam.
Invest in Quality CIA Exam Prep Materials
Investing in high-quality CIA exam prep materials will get you started on the right foot. Whether this is your first time attempting the CIA exam, or you've tried it before, our exam prep materials are helpful, accurate, and have given many professionals the confidence they needed to help them pass the exam.
PRC's CIA exam prep materials have been created by world renowned Certified Internal Auditors with decades of experience and knowledge, and our study tools (like our practice questions, flashcards, and mock exam) help ensure there are no big surprises.
If you're currently using other exam prep materials, give our Free Demo a try, and see if PRC is right for you. We offer a Switch to PRC Discount, if you're happy with what you see!

Happy learning!
×